The tide has turned on traditional retail stores.
Black Friday was originally known as the day retailers go into the black.
This polarizing shopping holiday has become synonymous with doorbusters, cheap TVs, and pitching a tent all in an effort to show a profit for the first time in a given year.
But it seems the parking nightmares, waiting in line, and frenzied crowds are set to fade.
According to the National Retail Federation, more people opted to skip the madness and did their Black Friday shopping online than in-store in 2016.
Considering this shift in consumer behavior, and the epic rate at which stores are shutting down, at first glance, it seems we've reached a tipping point.
But make no mistake, offline shopping isn't going anywhere. People are still going to stand outside and wait in line for great deals. It's what we do while we wait, and who we're willing to wait for that represents the biggest shift in how we shop.
Retailers who understand this and participate in these Black Friday ecommerce trends early aren't just chasing after the next new thing, they're preparing for the future of ecommerce and tackling Omni-channel in a way that's easier to digest.
After thorough research, we've identified these five Black Friday ecommerce trends that will put you ahead this year.
To learn about what you need to do now to prepare your business for the madness of the holiday season, download Demac Media's The Retailer's Guide to the Galaxy Holiday Season! by clicking here or the button below:
Black Friday eCommerce Trend #1 – Mobile Shopping Can No Longer Be an Afterthought
For the first time ever, 53% of all orders on last year's Thanksgiving Day came from mobile devices.
According to Mobify, this trend is set to continue, with mobile revenue overtaking desktop just in time for Black Friday 2017:
It went on to predict that mobile will reach 70% of ecommerce traffic by the end of 2018.
But mobile checkout rates are still trailing computers by 13%.
According to Stripe, "Mobile websites don't convert well: while mobile devices represent 60% of browsing traffic, they only account for 15% of purchasing."
So how can you boost mobile revenue?
Start with improving navigation, website speed, and offering one-click purchases, according to Fluent's 2017 Devices and Demographics report: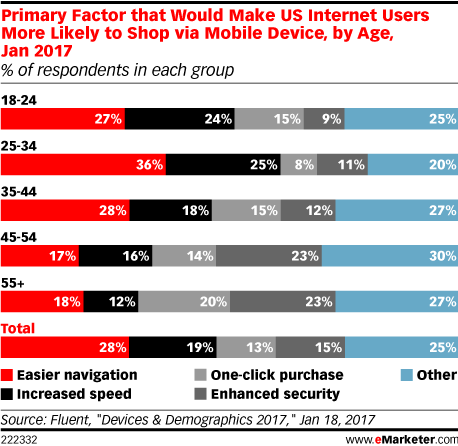 Mobify suggests that "retailers who take advantage of these – ASAP – will be among the retailers that see mobile revenue surpass desktop before Black Friday 2017."
(That's you.)
Improve Your Website's Navigation
The little things can add up and make a big difference. For example, Print Globe increased conversions by 18.5% simply by improving their website navigation design.
Start with your sitemap and menu layout. Andy Crestodina, strategic director of Orbit Media, recommends you, "Limit the number of menu items to seven."
But most ecommerce sites have a lot more than seven pages. So what happens next?
They put a drop-down menu on your drop-down menu.
The problem with this approach is that drop-down menus are almost always annoying and studies show that drop-down menus "encourage visitors to skip important pages."
Crestodina explains that "Visitors move their eyes much faster than they move their mouse. When they move their mouse to a menu item, they've likely already decided to click… and then you gave them more options. It's a hiccup in the mind of the visitor."
However, some other studies show that 'mega-drop-down menus' perform favorably.
The annoying moment of finding more options is worth it since the number of options given helps the user find exactly what they're looking for.
Of course, with the limited amount of space on mobile devices, this can be incredibly difficult to do well. Which is why the standard in responsive design is now the 'hamburger' icon:
If you have a lot of menu items, it's important to group them into drop-down categories, so the user doesn't need to scan information irrelevant to their search.
Amazon has turned their mega-drop-down menu into a page of its own, with a clear hierarchy of information:
Be sure to highlight site search, too.
Waterfilters.net managed to increase conversions by 11% just by adding Google Site Search to their website.
(Notice how Amazon highlights the search bar on every page of their site in their last example.)
Make sure your icons are obviously icons. This is especially important for mobile devices, as the lack of space may mean having to rely more on icons than words. On Twitter, every icon's meaning is clear and intuitive:
Increase Your Site's Speed
Consumers want it yesterday.
A study by Radware discovered that "a two-second delay in load time during a transaction resulted in abandonment rates of up to 87%. This is significantly higher than the baseline abandonment rate of 67%."
We've already written in-depth on how you can optimize your theme for performance, and went in-depth into the research behind page speed, as well as suggested diagnostic tools to see how your site can be improved, including:
PageSpeed Insights (Google's online tool, also built into Chrome's developer console)
YSlow (A browser plugin for Safari and Firefox)
WebPageTest.org (A fantastic tool, with lots of advanced options)
Be sure to pay particular attention to your checkout process. You need it to load as quickly as possible. Here are some tactics we've previously covered in detail to speed up your website:
Use Google Tag Manager
Consider measuring and improving your time to interact (TTI) speed
Optimize your images
Use fast and reliable hosting servers
Offer One-Click Purchases
UIE found impulse purchases represent almost 40% of all the money spent on ecommerce.
Offer One-Click Purchases
UIE found impulse purchases represent almost 40% of all the money spent on ecommerce.
You can boost impulse purchases by reducing the amount of effort it takes to buy something. Which is why candy surrounds you at the checkout line—all you have to do is pick it up and add it to your groceries.
Online, the less clicks the better.
'One-click' purchasing allows customers to buy items with a single click, with the required payment information having been entered previously by the customer.
You can enable one-click purchases using:
Shopify Pay
Apple Pay
Android Pay
Paypal
Ideally, you'll want to set up all four of these payment services, as customers may already have an account with one of them.
Black Friday Ecommerce Trend #2 – Pop-Up Shops Provide Three Dimensional Experiences For Brands Consumers Want to Support
It might be time to step away from the laptop for a hot second. There's a world out there.
Tom McGee, president and CEO of ICSC, said, "The convergence of physical and digital continues to be important as consumers have come to expect an integrated experience allowing them to buy products through a variety of channels."
What does this mean for you? Pop-up shops.
McGee continues, "The survey data proves that omni-channel retailers are the real winners this season."
Google recognized this early on when they created Google Local Inventory Ads to show online shoppers product availability in nearby stores.

This works well.
In their post-holiday shopping survey, the ICSC found that 61% of people who bought items online to pick up in-store, bought another item in-person when they came to pick it up.
You can also attract new customers.
Katherine Hill, Director of Offline at BaubleBar, said in an interview with Retail TouchPoints, "We see about half of the people who walk into our pop-up shops have never heard of our brand before … It's a very strong customer acquisition channel for us."
But why are pop-up shops so appealing to consumers?
In a poll by PopUp Republic (as reported by VMSD), 61% of people said the top reason to visit a pop-up store was to "find seasonal products." Other key reasons were to find new and unique products, to shop locally, and to benefit from great prices.
And then there's Fear of Missing Out.
"The great thing about pop-ups that we find all across the board … is that they have this 'fear of missing out' quality to them," said Jeremy Baras, the CEO of PopUp Republic. "Customers are attracted to exclusivity. They're attracted to a 'here today, gone tomorrow' type of concept."
This goes extra for online retailers during Black Friday – Cyber Monday weekend. One particularly interesting Black Friday ecommerce trend that's cropped up in recent years are ecommerce retailers opening Black Friday pop-up shops to deliver branded, three dimensional experiences to their customers, and providing an alternative for loyal customers to shopping with traditional big box retailers.
Check out Shopify's Ultimate Guide to Pop-Up Shops. In it, we take you through everything you need to know to set up a successful Pop-Up Shop:
Roughly a third of Shopify's users also sell in the physical world, a pop-up shop, a permanent store or at a group venue (like a farmer's market or bazaar).
Join them and exploit this growing trend during Black Friday this year.
Black Friday Trend # 3 – Geo-targeted Advertisements May Create Layered Brand Experiences (or Siphon Money From Big Competitors)
We've covered the growing importance of mobile devices in commerce. Now, it's time to add geo-targeting into the mix.
Geo-targeting is the method of delivering different content to users depending on their physical location.
And on Black Friday, there'll still be tons of bored deal hunters waiting in line, staring at their phones until the doors open. 81% of Millennials still visited a shopping center during the holiday season in 2016.

Take advantage of their boredom and predisposition to buy by running geo-targeted ads with a tight radius centered around where your would-be customers might be.
According to an ICSC survey (covered by Digital Commerce 360), 86% of millennials used a mobile device while shopping in stores during the holiday season in 2016, and a massive 96% of them made a purchase.
Search ads alone drove 38.5% of sales on Cyber Monday 2016.
So, here's what you do:
Step #1. Identify a major retailer who targets a similar demographic as you. For example, if you sell home furnishings, Pier 1 Imports might be a good match.
Step #2. Using Google Maps, or the company's own store locator, identify where each of their physical locations is situated.

Step #3. Target your ads to display within a 10-mile radius from these stores' zip codes.
Make sure to target mobile devices. Then, focus your ads on the products that will be most competitive with the larger retailer's flagship Black Friday offers.
You can do this with the Google Display Network using Adwords' Zip Code Targeting, or using zip-code targeting in Facebook ads.

If you want to get really creative, you can even time your ads, so they only run before the store's doors are scheduled to open.
By using geo-targeted ads, you'll increase your exposure to deal-hungry shoppers ready to buy.
Black Friday Ecommerce Trend #4 – Chatbots to Scale Sales, FAQ, and Customer Service
Humans are so last year.
According to a report by Ubisend, 51% of people say a business needs to be available 24/7. And 46% would rather contact a business through messaging than email.
But it costs money to have representatives on-call all hours of the day. Which is why it's time we let the bots take over.
A chatbot is software that has a conversation with you via chat, aiming to provide a personalized experience.
According to a survey by Oracle, 80% of businesses want chatbots by 2020.
But the boom has already begun.
The two biggest bot platforms are Facebook Messenger, with over 900 million monthly active users, and KIK, with over 200 million. So, just on these two platforms, you can potentially reach over a billion people using this new technology.
We even have a chatbot here at Shopify, called Kit:
It's true that chatbots aren't perfect—but they are the future.
Developers can use Facebook's Quick Start Guide which promises to show you how to create a chatbot from scratch in less than ten minutes. Everything is explained in detail and accompanied by screenshots and examples.
But there's plenty of chatbot services allowing you to create a chatbot without code. Here are three of our favorites.

Companies such as Adidas, BuzzFeed, MTV, British Airways, TechCrunch, and ABC news used Chatfuel to build their chatbots.
The platform has 17 million users around the world currently. They've also created 360,000 chatbots used as personal avatars, event assistants, and customer support.
FlowXO is the only bot platform that you can integrate with over 100 services. This flexible platform also allows you to create a fully automated bot, human/bot hybrid.
Entrepreneur called Chatty People "the best chatbot platform for creating an AI chatbot on Facebook with integrated Facebook commerce." They make chatbots for Messenger, Slack, Skype, and Twitter.
Murray Newlands, founder of Chatty People, said, "Where ten years ago every company needed a website and five years ago every company needed an app, now every company needs to embrace messaging with AI and chatbots."
Jump on this trend to leverage Chatbot commerce this Black Friday.
Black Friday Trend #5 – Black November
40% of holiday shoppers start buying before Halloween, according to the National Retail Federation.
Which is why Amazon's Black Friday site arrived almost a month before the day in 2016, calling it "the countdown to Black Friday."
The site offered a new deal every 5 minutes until December 22nd, with some of the best offers delivered during the five days between Thanksgiving and Cyber Monday.
Forbes reported that "Macy's started offering "preview doorbusters" on Nov. 17, as did eBay. Walmart reportedly has been offering deals since Nov. 4, and Target is offering various savings through December."
We now have Single's Day (China's biggest online shopping holiday), Black Friday, Cyber Monday, and Christmas merging into one, monstrous two-month-long shopping holiday.
Oh, and then you have the January sales.
NRF found that most retailers expect 30% of their annual sales to come from holiday shoppers.
By spreading out your promotions, consumers can spread out their spending, and you're able to sell more overall.
There's also the opportunity to hook people into your online marketing efforts long term, by getting consumers to sign up to your mailing list for exclusive Black November deals or early access.
So, you've got tons of promotion ideas—how do you setup your store for them?
By running your own custom code right on Shopify's servers, that's how.
With Shopify Scripts, you have the control of self-hosted ecommerce combined with the power, security, and reliability of Shopify Plus.
The Script Editor app allows you to create scripts that run each time a customer adds items to their online cart. These scripts can have many uses, from discounting products with specific tags to running promotions such as "buy 2, get 1 free."
We've created the following script templates:
Percentage (%) off of a product

Amount ($) off of a product

Percentage (%) and amount ($) off of a product

Tiered discounts

Buy one get one free (BOGO)
Below, MMAWarehouse automatically includes a free water bottle with their Gracie Rashguard top:
You can also sow the seeds of a return visit over the holidays, with gift cards (or codes). And according to Gift Card Granny, 65% of gift-card holders spend an extra 38% beyond the value of the card.
Turn Black Friday into Black November to fully capitalize on this bizarre holiday.
Follow These Black Friday eCommerce Trends!
Black Friday—or Black November—seems set to keep growing. Especially as sales continue growing year after year.
The rise of ecommerce, along with the shift to mobile devices, continues to transform consumer behavior dramatically, too.
Trends like mobile commerce, geo-targeted ads, and chatbots, will shape the future of retail.
By jumping on these trends in time for Black November, you'll prepare your business for success this holiday season. You can take the time, now, to do all of the work to prepare yourself for later.
So that by the time the holiday season rolls around, you'll be ready to dominate.
All three months of it.
Remember The holiday season is your last chance to drive results!
Download your free copy of The Retailer's Guide to the Galaxy Holiday Season! Containing actionable tips from industry experts like Demac Media's trusted partners including Shopify Plus, and many more!